Providing Customized Technology Offerings
STAR Portals
Altair Global offers STAR as a unique online experience developed specifically for our customers, clients and supplier partners. Our technology platform is fully developed and owned by Altair and maximizes flexibility without compromising security.
We know information is power, so STAR is built to provide on-the-go access and powerful data to ensure relocating employees and mobility team members are prepared anywhere, any time. Our STAR portals can be accessed through the web, on any mobile device or on Altair Anywhere, through our iOS or Android app. Altair Global offers technology solutions for the unique needs of each of our user groups.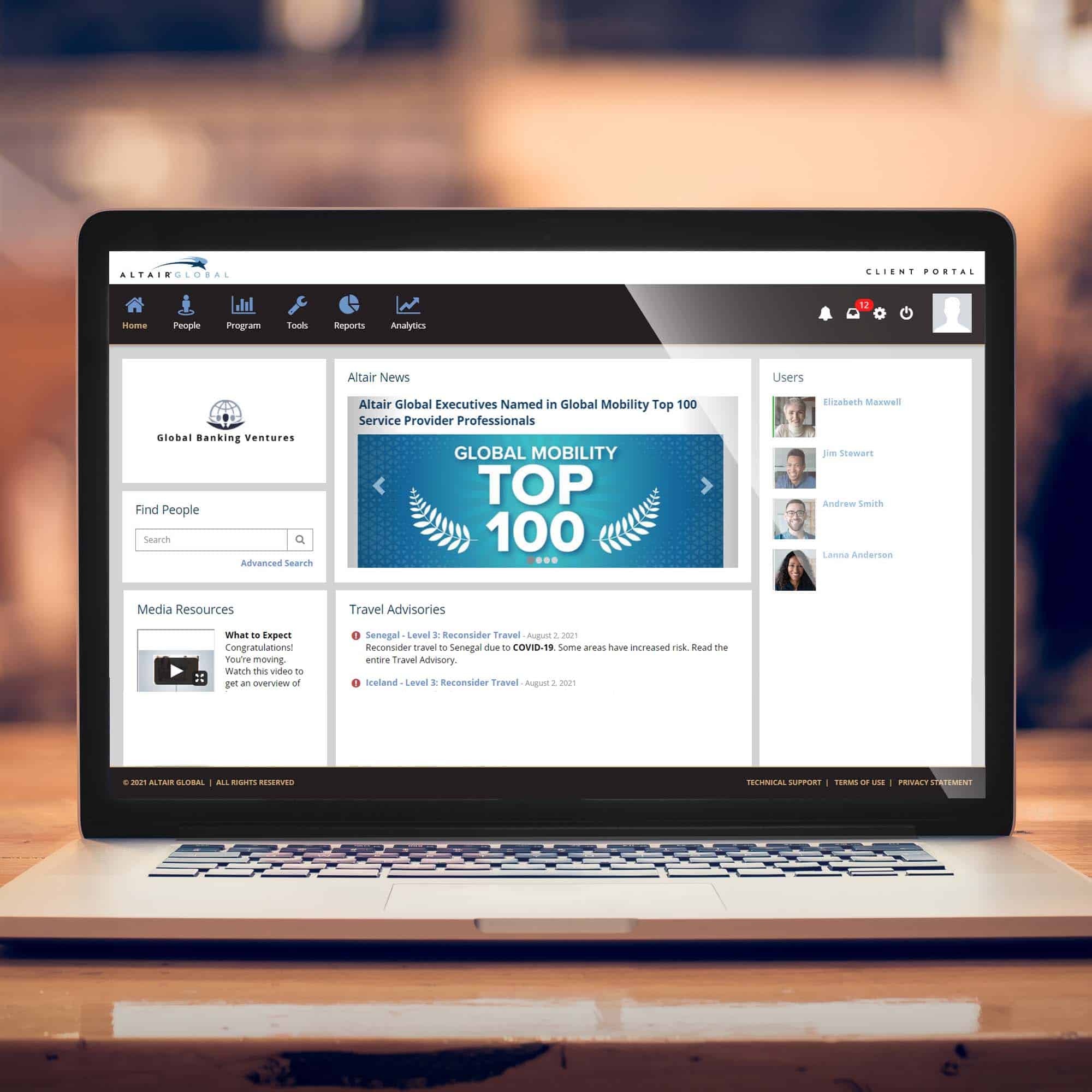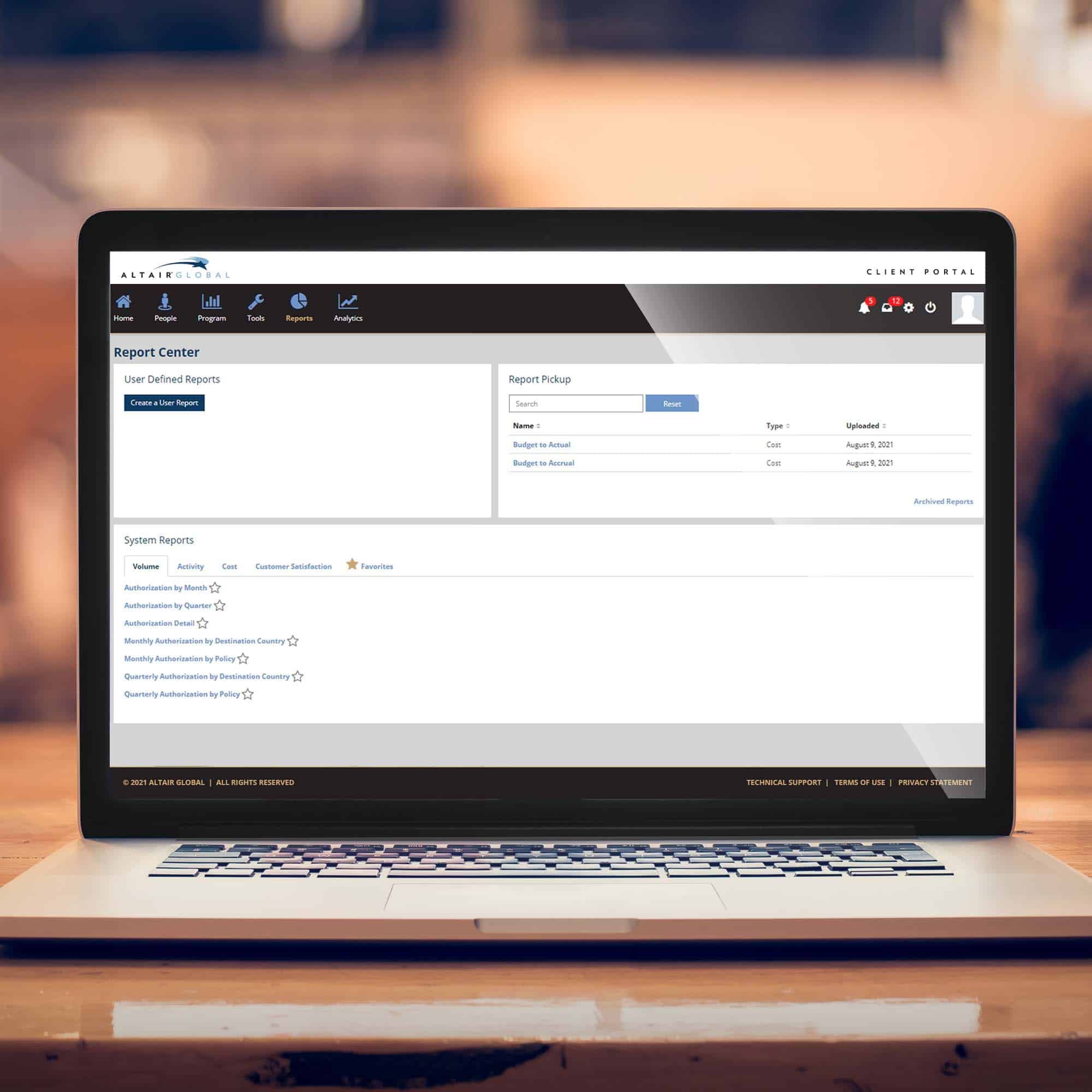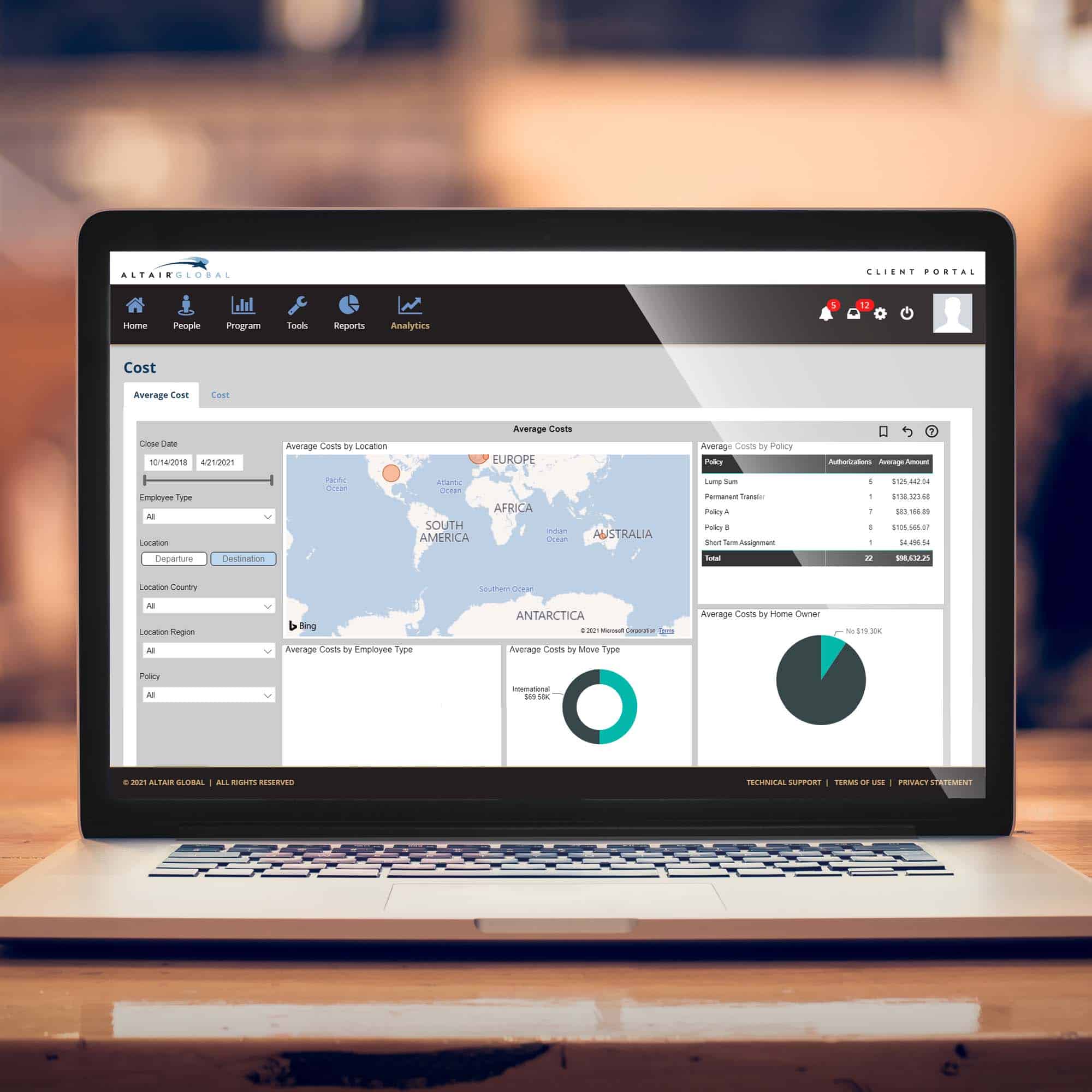 Client Partner Portal
Altair Global's STAR Client Partner Portal provides total program management online with powerful data and insights for your program. Through its intuitive user interface, our clients can create personalized dashboards that include go-to reports and most frequented features. The STAR Client Portal includes features such as:
Personalized dashboards to make navigation easy: Our customizable dashboards make it easy to navigate from a high-level program overview to granular data on a specific employee. Want to learn more about a particular chart or dataset? Just click on it to get the details.
Reporting center: System reports and archived data are always available through our reporting center. You can also sort the data by volume, activity or cost, and save those custom reports for easy access in the future.
Cost estimator: With our integrated estimator, you can evaluate the potential costs of a relocation or assignment and the impact on the employee's family before making a final decision to move that employee.
Customer Portal
The STAR Customer Portal is an end-to-end solution for relocations or assignments. With access to this portal in their pocket or on their desk, our customers can securely review their individual status, process expenses, access tools, update their profile and tasks and connect directly with Altair Global team members and supplier partners assisting with their move. The STAR Customer Portal delivers features to make moving more convenient:
Calendars, timelines and task lists: With our cloud-based calendar and task management features, your employees can see where they are in the relocation process, what's upcoming and what they still have to complete.
Expense management submission: Employees can keep track of their expenses, submit reimbursement requests and update bank account information.
Destination information: Get detailed information on their destination to help plan for the move or assignment, such as city guides and cultural tools.
Video guides: Our video library covers services like:

Household Goods with videos about "Moving Day" and "Your Stuff in Transit"
Home Sale with videos about "Getting Your Place Ready to Sell" and "Next Step: Inspections"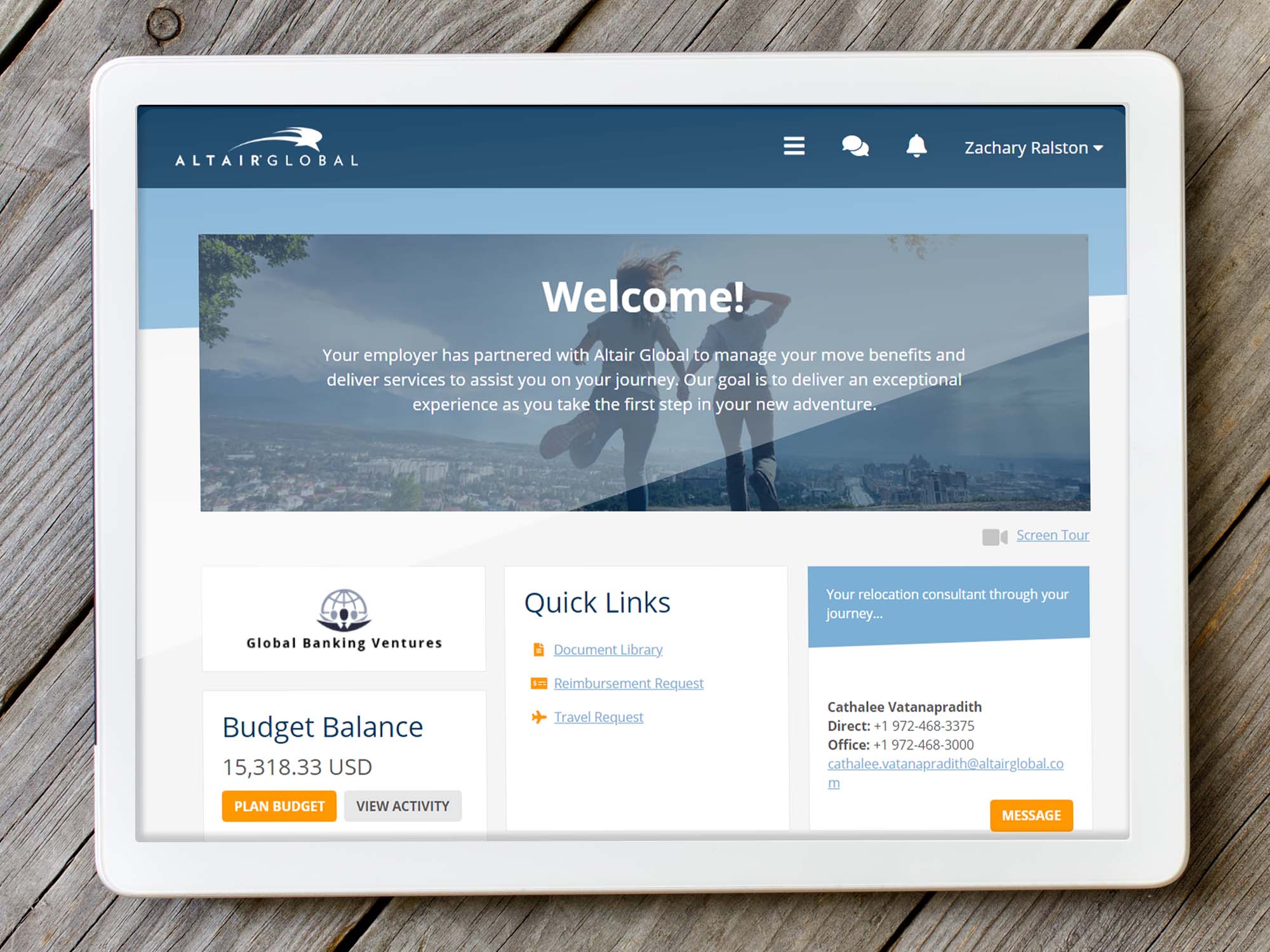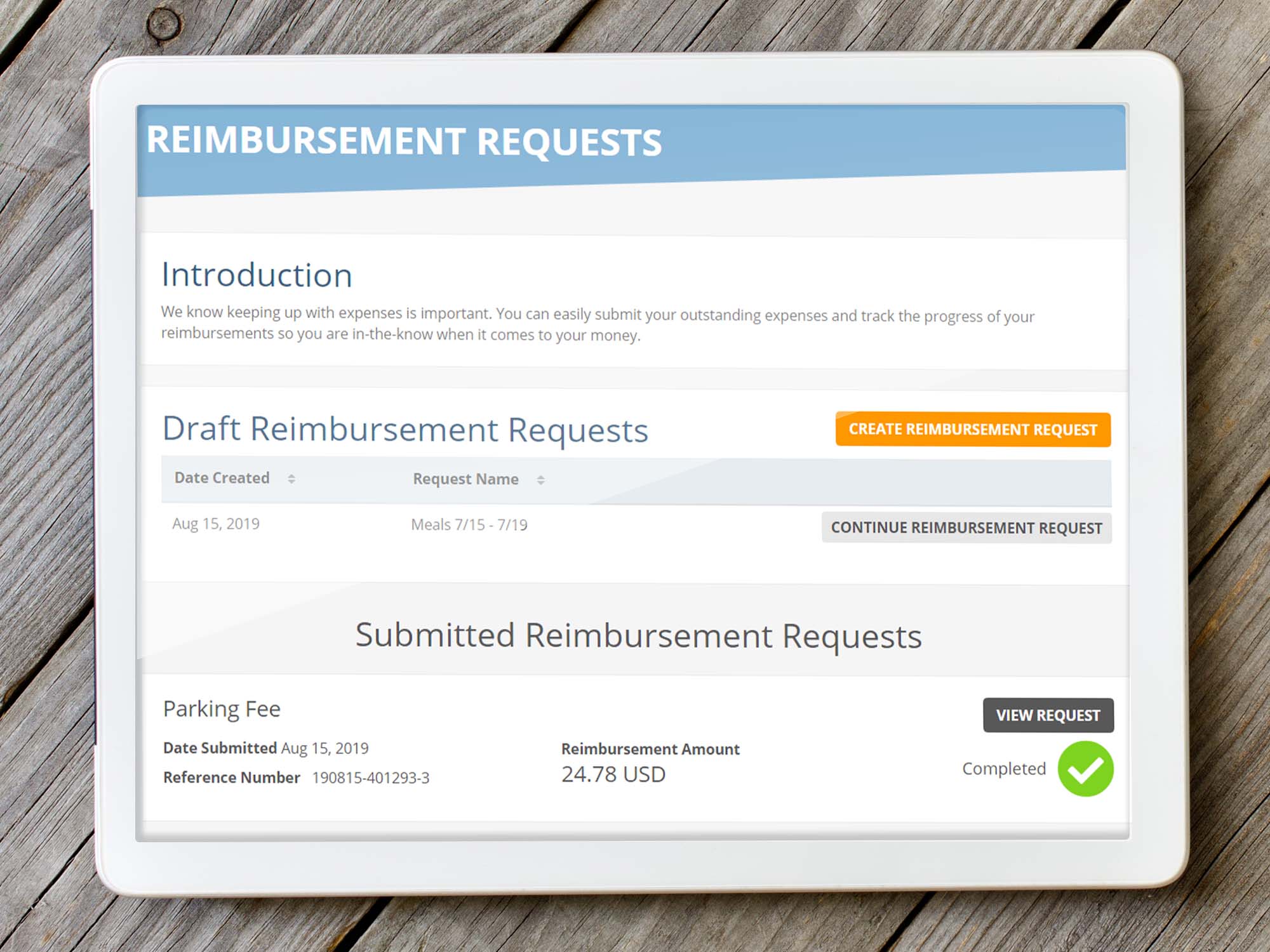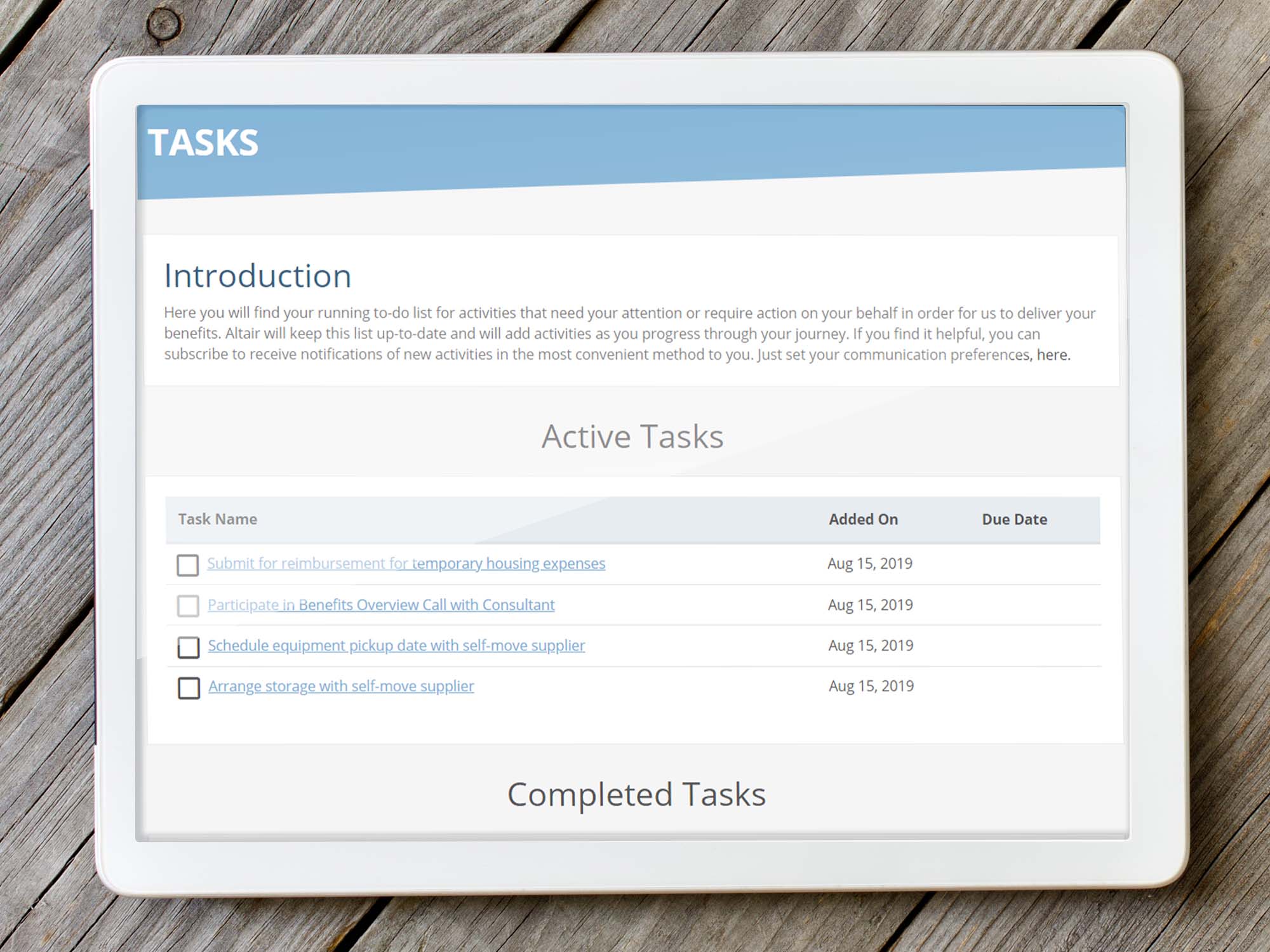 Altair AnywhereTM
Relocating takes your employees across the globe, often without immediate access to a computer. That's why we've made global mobility even more mobile. With our Altair Anywhere mobile app, relocating employees have quick access to our STAR Customer Portal — anytime and anywhere. It's free and compatible with all iOS and Android devices. On the Altair Anywhere app, relocating employees have all the functionality of the full portal and can access:
Access personal account information
Edit and update online banking profiles
Find service provider information
Reach out to their Altair Consultant (whose contact information can then be added to personal contacts on a smartphone)
Photograph and upload receipts for full online expense processing
Review any documents posted to the STAR portal library (e.g., tax packages, balance sheets, relocation policies)
Enjoy a secure, mobile-friendly website for easy viewing in the office or the field. Our goal is to provide customers with a seamless journey and, by giving them real-time access to every step of the relocation process, our app does just that. Learn more and download Altair Anywhere on iOS or Android.
Supplier Partner Portal
Our STAR Supplier Partner Portal/Integration allows suppliers to receive new orders from Altair and update the status of orders to our system. Major suppliers are integrated in the Altair ecosystem and process orders digitally rather than through a portal. Altair's global supplier portal and integration provides enhanced data integrity and PII data security measures; automated processes to assist us in managing performance; and provides real-time data sharing between the Altair service teams, the supplier and the client mobility team. Implementation of this portal for global suppliers eliminates duplication of requests for data, providing for a more seamless experience for the relocating employee. Through our Supplier Partner Portal, our suppliers can:
Update their company profiles and service offerings online
Access Service Level Agreements (SLAs) and contracts with Altair
Run online reporting
Receive new orders
Exchange documents securely with Altair and relocating employees
Receive notifications via the portal, SMS or email when important events occur with employees they are serving
Enjoy a secure, mobile-friendly website for easy viewing in the office or the field
Making Moving More Efficient through Technology
Ultimately, the goal of any tech-enabled process is more efficiency and productivity for the end-user. Our technology focuses on doing just that for each person interacting with our brand. We invest significantly in the continuous improvement of our overall tech ecosystem as well as each portal that we provide. For an in-depth demo of the functionalities available in our STAR portals, reach out to Altair today!